That's what really matters.
What do I need to think about when buying a used car?

---
How can I tell whether the vehicle is worth the money?

---
Our author arranged a viewing with a test drive – and brought an expert along for the ride.

---
---
Buy second hand without any nasty surprises
It's important to prepare properly for a viewing. Take a list of questions with you and maybe someone else as well.
If you want to buy a coat, you head to the stores in town. If you want to buy a car, you make for the outskirts, where the houses are further apart and the fields extend into the horizon. You might, for example, head to Rümlang in the Glatt Valley.
I found our test vehicle – a mid-range Italian passenger car – on a large Swiss online marketplace. I took Hans Dubach, a former car dealer and service representative with many years of experience in the second-hand vehicle trade, along with me into the Zurich lowlands for the viewing.
"Meeting the seller face to face is very important," Dubach explains as we head toward the entrance of the used-car dealership. Who was the previous owner? Were they a smoker? Does the vehicle come with one or two sets of tires? Has it ever been involved in an accident? This one is not always easy to check. And that's why it's a matter of trust, says Dubach. If you want to be absolutely certain, you can have this checked by a neutral expert.
It's a good idea to prepare for the viewing and take a list of questions with you. Maybe someone else as well – someone who can take a more critical and objective look at the vehicle than the buyer.
It's not so easy to tamper with digital odometers
Calculating lease options: Financing your used vehicle.
The car dealer opens the roller door. He has been expecting us and offers us an Italian-style coffee on arrival. A good sign.
Freshly caffeinated, our attention turns to the test vehicle. Before we take a closer look, I ask Dubach whether it's true that odometer tampering is a common occurrence in used cars. What we should be aware of is that tampering is possible with both analog and digital displays. However, "it's no longer as easy to manipulate digital ones as it used to be," says Dubach. In his expert opinion, the risk is relatively low. When assessing the vehicle, it helps to check whether the odometer reading indicated matches the overall impression you have of the car. "If the vehicle has only 20,000 kilometers on the clock, but shows very clear signs of use, this can be seen relatively quickly."
As information about servicing work and repairs is generally stored digitally nowadays, the problem of missing service books is a thing of the past with newer vehicles. Dubach tells me that, as a buyer, you can ask sellers to print out an extract from the digital service book. This allows you to check, if need be, whether a maintenance backlog has built up.
Dents, scratches, chips from stones... a walkaround check is a must. Not least to check potential hail damage, says Dubach. "Perhaps the car is still insured, and the car dealer might be able to carry out the repair right away." I want to know whether rust is still an issue. "In the 1970s, the metal sheets that were used were very different," says Dubach. He explains that corrosion protection has improved significantly, but it's certainly not a bad idea to check the car for it again – ideally during the day and in good light.
A two-franc coin is perfect for checking the tires
The next step is to check the depth of the tire tread, which can be easily done with a two-franc coin. If the base on which Helvetia stands is no longer visible, the tread depth is at least 4 mm. "So, I know that the tires are still usable and I can still drive between 4,000 and 6,000 kilometers on them without any problems."
We open the engine hood and stand in silence until the Boeing 777 above us has gained a bit of height and we can talk at normal volume again. "A layman usually wouldn't notice much here," says Dubach. As a private buyer, however, you can check whether the engine compartment is clean, an indication that the car has been checked. You can also check the fluid levels yourself or ask the seller whether they have done so.
We climb in. Hans Dubach examines the condition of the interior, looking for larger scratches or cracks on the dashboard and steering wheel. He checks whether the lighting works, whether the car has an automatic climate control system installed, how the music system sounds, and how the leather seats feel. "Individual preferences also play a role and they must be taken into consideration in the assessment."
After starting the engine, it's important to check that the warning lights come on briefly and then go out again. If they do, you can assume that all the systems are working.
"There's nothing worse than buying a car and then finding out that you don't feel comfortable in it."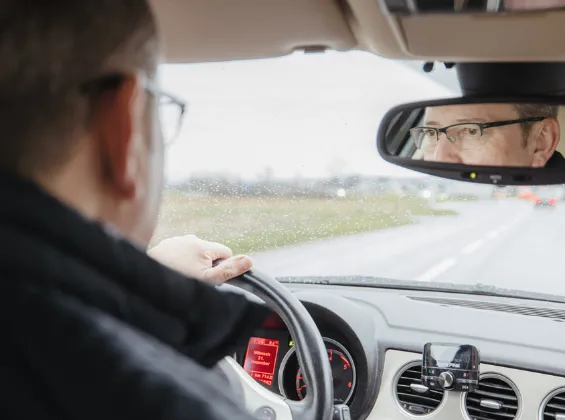 And we're off. Thirty, fifty, eighty, one hundred and twenty... "I recommend driving at all target speeds to check how the vehicle performs." Do the gears change fluidly? How does the car accelerate? If you feel vibrations or if the vehicle stutters, something is wrong.
How to negotiate the price
Even if the outcome of the technical test is positive, you should always listen to your gut – and your back. After all, "it's important for the car to be comfortable. There's nothing worse than buying a car and then finding out that you don't feel comfortable in it." Taking a longer test drive is therefore definitely beneficial here, as tension rarely builds up when just driving quickly around the block.
As we return to the garage entrance, Dubach tells me that the test vehicle is in perfect condition. This would normally be the time for any price negotiations to start. How much can you get a dealer to come down in price? A few hundred francs, certainly, says the former car salesman, but no more. "If a used vehicle is being offered for CHF 25,000 and you are given a 20% discount during the price negotiation, it's not a serious deal." There is sometimes more leeway with accessories. As a buyer, you might get a set of winter tires, an up-to-date highway permit sticker, or a roof rack.
The car dealer courteously opens the door for me. He knows that we have only tested the vehicle for research purposes and that he won't be selling us anything, but he remains fully committed to his service-focused role. A positive client experience across the board. A good gut feeling – and that's the most important thing.
We will be happy to advise you on the phone
Call us or arrange a free callback.
0800 40 40 42
Calls are free of charge from Switzerland
Come in for a personal consultation.
Visit us at a branch near you.